Chinese Writing Software -
a Chinese Learning Software that Teaches You to Learn Chinese Language
Also see
Chinese Language Software
Chinese Learning Software
Chinese Writing Software
Learn Chinese Online with Visual Mandarin
General Introduction of Our Chinese Learning Software
"5-Learning-Modules-in-1" CD ROM - A Good Chinese Writing Software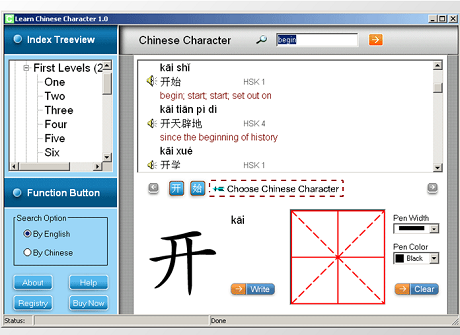 Although many Chinese learning software products teach you to learn Chinese writings, we recommend to learn Chinese characters using our recommended Chinese writing software. In Module 2 of this Chinese writing software, it shows 3,500 most commonly used Chinese characters, meaning, pronunciations, compound words and phrases. For more information, please see Chinese Learning Software

Other key features of the Chinese learning software are as follows:
English-Chinese double language Dictionary includes over 12,000 Chinese words and phrases
Over 3,500 most popularly used Chinese characters writing demo (You can use your mouse to imitate how to write)
1,300 Chinese Pinyin (initials, Finals, and Syllable)
66 lessons and 95 scene dialogues
Text To Speech available in both simplified and traditional Chinese (You would love this feature!)
Examination module allows you to self-test your Chinese proficiency
Price of "5-Learning-Modules-in-1" CD ROM, Our Chinese Writing Software:
$49.99
Order today and receive Same-day Free Shipping anywhere in North America (US, Canada and Mexico)!

Customer Service & Technical support hotline: +1 847 220 9088

To purchase, please click button below.
Contact Us

Please contact us for more information.