Chinese Learning Software
A Chinese Learning Software that Also Teaches You Chinese Writings
Also see
Chinese Language Software
Chinese Learning Software
Chinese Writing Software
Learn Chinese Online with Visual Mandarin
General Introduction of Our Chinese Learning Software
"5-Learning-Modules-in-1" CD ROM - A Good Chinese Learning Software
Besides private tutors, studying Chinese using a Chinese learning software would give you the conveniences of learning Chinese at whatever time you like and wherever you like, as long as you have a computer.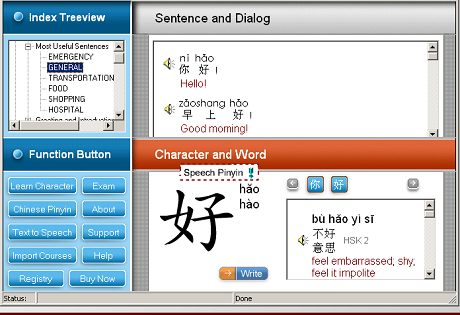 "5-learning modules-in-1" is a Chinese learning software designed for those who are serious about learning Mandarin Chinese language. It's a simple, efficient, and comprehensive tool helping both beginners and senior learners to systematically learn Chinese language and Chinese culture. All sentences, characters, words, and phrases are pronounced in real natural audio. All sentences, characters, words are marked with Pinyin which is with tone marks. There are 66 lessons and 95 sense dialogues. English-Chinese double language dictionary includes over 12,000 Chinese words. You can search the new words with English or Chinese as well as strokes of the Chinese character or Pinyin. Chinese alphabet includes the 1,300 Chinese Pinyin in total. Examination Module can test your audition, understanding of Chinese and Pinyin. This module is helpful for your HSK examination. Speech Chinese can help you to read the texts on Web site or clipboard in Chinese.
"5-Learning-Modules-in-1" Chinese learning software integrates 5 different learning modules in one package and teaches you through modern audio and visual effect how to pronounce, read, speak and most importantly write Chinese language in the comforts of your own home on your time schedule just for a fraction of the cost. Created by a dedicated group of Chinese software and linguistic experts, the software will bring you a brand new learning experience.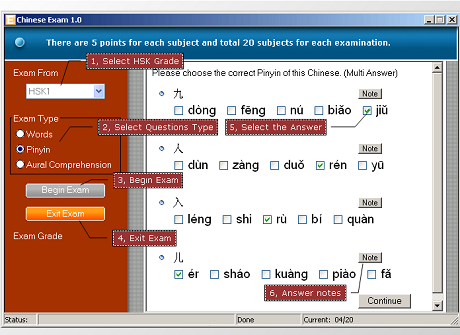 Content of the Chinese Learning Software
This comprehensive Chinese learning software is consisted of the following powerful modules:

Module 1: Chinese alphabets - it teaches you Chinese initials, finals and four tones
Module 2: Chinese characters - it shows 3,500 most commonly used Chinese characters, meaning, pronunciations, compound words and phrases.
Module 3: Learn Chinese - it contains 66 popular dialogues imitating real-life communications
Module 4: Chinese speech - this function helps you enhance your listening comprehension in the best way
Module 5: Self exam - you will have the chance to test what you have learned from all the previous 4 modules
Version 6 may include unspecified updates, enhancements, or bug fixes.

Other key features of the Chinese learning software are as follows: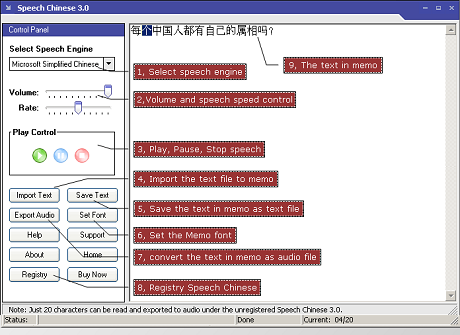 English-Chinese double language Dictionary includes over 12,000 Chinese words and phrases
Over 3,500 most popularly used Chinese characters writing demo (You can use your mouse to imitate how to write)
1,300 Chinese Pinyin (initials, Finals, and Syllable)
66 lessons and 95 scene dialogues
Text To Speech available in both simplified and traditional Chinese (You would love this feature!)
Examination module allows you to self-test your Chinese proficiency
Price of "5-Learning-Modules-in-1" CD ROM, Our Chinese Learning Software:
$49.99
Order today and receive Same-day Free Shipping anywhere in North America (US, Canada and Mexico)!

Customer Service & Technical support hotline: +1 847 220 9088

To purchase, please click button below.
Contact Us

Please contact us for more information.