Curriculum
Los Angeles Chinese Learning Center teaches students scientific methods to learn Chinese. According to scientific studies, most of what we learn is forgotten after a short period of time. The first of the following graphs shows the forgetting curve or memory curve, a mathematical model for the phenomenon of forgetting, which was first proposed by the German psychologist Hermann Ebbinghaus in 1885 (see Wozniak 1999). He showed that (under the circumstances of his experiment) we forget about 75% of what we learn after 48 hours!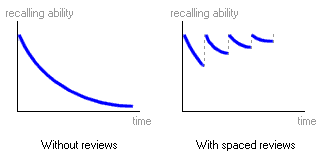 This model was validated later (Pimsleur 1967; Bahrick 1975 and 1984; Bloom et al. 1981). Of course, the shape of this curve in actual scenarios is determined by the nature of the subject matter, the occurrence of interferences with similar material, and other factors.
In the second graph you can see that the forgetting curve gets smoother with every review [UK: revision] session. This means that spaced repetitions can help us keep retention at optimum levels (Salisbury 1990). For the same reason, the lags between consecutive reviews may be increased gradually (Landauer and Bjork 1978; Cull et al. 1996).
Regarding this, although some researchers hold that those lags must be as long as possible so as to minimize time and effort investment (Dempster 1987, 1988, 1996), too long intervals may lead to recall failure. For this reason, special measures for remedying such recall errors must be made available.
At Los Angeles Chinese Learning Center, we teach our students about the Memory Curve as well as effective memory methods.
Currently, we use the above methods to teach in our Chinese class in Los Angeles and Chinese class in New York.
We currently use two sets of textbooks. One is called Conversational Chinese 301. This is a textbook designated for English speaking beginners who would like to learn the most practical Chinese conversations.
The other book is called Easy Way to Learn Chinese Characters. This book is specifically for English speakers who would like to learn Chinese characters efficiently and effectively. Once you become familiar with the 800 basic characters in this book, the rest of 2,200 of the 3,000 commonly used Chinese characters will become easy!
Please find more information about these Chinese textbooks and Chinese Flash Cards for Kids
Make Chinese friends in Los Angeles
Yes, it is one of the services that is unintentionally provided by us. Yes, you can make Chinese friends in Los Angeles, read more...
By the way, two members of Los Angeles Chinese Learning Center (one teacher, one student) married in July, 2004.
Classes Regarding World Wide Web (in Chinese)
Want to relax a little bit? read about a famous Chinese actress Zhang Ziyi