Chinese Class in New York for Adults
Group Class for Beginners in Chinatown, New York with Experienced Mandarin Instructors
(Also see our Chinese Travel Agency in New York)
If our Chinese class is unavailable, you might wish to consider to learn Chinese online via Podcast & MP3
Location: Chinatown, New York, NY 10013 (Chinatown)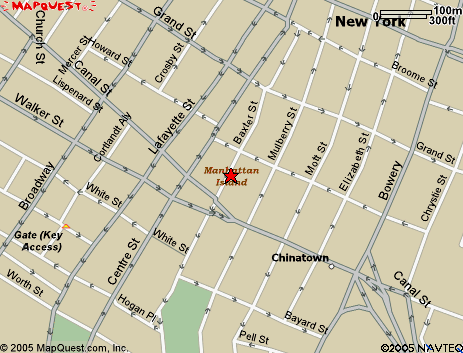 Tel: Register Online for Chinese Class in New York
General Information about our Chinese Class in New York:

Class Schedule: Once a week at off work hours. To be determined. Each class lasts 1.5 hours.

Textbooks Used:

Conversational Chinese 301 (with 6 tapes)
Easy Way to Write Chinese Characters (optional)

Our Chinese Class in New York will emphasize
Chinese language is easier than most people think. In fact, we have explained in more details at http://chinese-school.netfirms.com/Chinese-easy.html

Instruction using the "direct method", a proven method to learn a foreign language efficiently and effectively. However, we will also combine the traditional method of learning when necessary, which will emphasize and focus more on grammars

The importance of "spaced repetition", a learning technique in which increasing intervals of time are used between subsequent reviews. According to several scientific studies, It is the most effective and effective memorization technique.

Learning Chinese with the right-brain. We will utilize videos, photos, pictures, music and sounds to re-enforce Chinese language learning and memorization. We also have Internet tools for students to practice Chinese at home.
PREPARATION/HOMEWORK

You will be expected to preview for textbook materials, to read over the grammar explanations in each lesson, and to complete homework for each lesson.

Anticipated Course Schedule for Our Chinese Class in New York

Week 1:
Lesson 1, Conversational Chinese 301
Introduction to Chinese language, tones, and characters
Homework: Review Lesson 1 and preview lesson 2

Week 2:
Lesson 2, Conversational Chinese 301
Lesson 1, Easy Way to Learn Chinese Characters
Greetings and self-introduction, numbers, pronunciation, character strokes
Homework: Be prepared to introduce yourself and each other in class.

Week 3:
Lesson 3, Conversational Chinese 301
Dates, siblings, work, pronunciation practice etc. Review lesson 1 of Easy Way to Learn Chinese Characters
Homework: Memorize ways to say dates. Review numbers, be able to write down phone numbers in Chinese.

Week 4:
Lesson 4, Conversational Chinese 301
Lesson 2, Easy Way to Learn Chinese Characters
More ways to greet each other. Ask each other phone numbers and birthdays.
Homework: Review lesson 4 of Conversational Chinese 301, practice Chinese characters.

Week 5:
Lesson 5, Conversational Chinese 301
Names of places, the verb "to go", Japanese names in Chinese, etc. Review of Lesson 1-5.
Homework: Be prepared to write a sentence in Chinese, such as "My name is… ", "my birthday is…" Practice questions sheet.

Week 6:
Lesson 6, Conversational Chinese 301
Lesson 3, Easy Way to Learn Chinese Characters
Birthdays, days of the week, etc.
Homework: Be prepared to write 2 sentences in Chinese, and be able to ask for days of the week, etc. More Chinese character practice

Week 7:
Lesson 7, Conversational Chinese 301
Household vocabularies, Chinese culture information, modern Chinese families.
Homework: Review Chinese characters. Be prepared to turn in your character writing practice, and a 5-minute presentation in Chinese.

Week 8:
Review of Lessons from 1-7 and examination.
EIGHT WEEK TERM COURSE GOALS

By the end of the 8-week term students should be able to do the following:
· understand predictable basic questions and commands in familiar topics
· understand speech on familiar topics at a slower than normal speed
· use language for personal communications needs, ask and answer questions and request clarification as needed
· handle simple phone conversation in Chinese
· demonstrate familiarity with selected aspects of Chinese culture(s)
· look up a Chinese dictionary

Cost: (to be paid on the first day of class, by credit card, check or cash)

$250 for two months.
Textbooks not included.
How to Register:
Please call us at Register Online for Chinese Class in New York