Chinese Travel Agency in Toronto
Chinese Travel Agency in Toronto
(Please also see our Chinese travel agencies in Los Angeles, New York, San Francisco, Boston, Chicago, Washington DC, Honolulu, Las Vegas.)
Toronto is one of the most industrialized cities in Canada and home of many Chinese Canadian residents.
Services Included: (Minimum 3 People)
Toronto airport pickup and transportation
Bilingual Chinese tour guide in Toronto (8 hour/day)
Bottled waters
Services Provided at Extra Cost: (Minimum 3 People)
Hotels in Toronto
Breakfast, lunch, and dinner in Toronto
Entry tickets to tourists attractions in Toronto
Depending on your Chinese visitors' requests, our Chinese travel agency in Toronto can take them to the following attractions:
The CN Tower, Toronto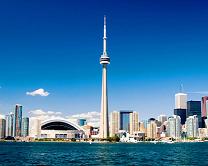 The Canadian National tower, better known as the CN tower, is the highest free-standing structure in the world. It is one of the best-known Toronto attractions for Chinese visitors. Our Chinese speaking tour guides will take your Chinese visitors on top of the CN tower, and they will enjoy the full view of the city of Toronto.

Aside from taking them to the CN tower, we might also take them to St. Lawrence Market, and the Art Gallery of Ontario, as well as the Chinatown of Toronto.

Cost:

$600/day/base cost + $50/person/day

Please contact us for more information.