Solar Powered Lights Product Reviews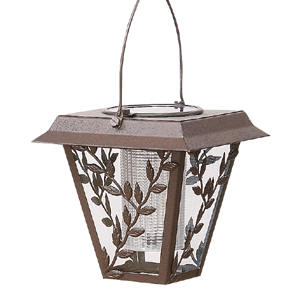 Solar Lanterns w/Hanging Support - Silver Fox
Overall Abacus Rating:






EXCELLENT
4 of 5 Abacus Approval
Abacus Rating System

Lousy


OK



Good




Excellent





Exceptional
This solar powered light with hanging support is a product of Heritage Lights, located in California. The hanging support and frame of this product is made of bronze.
With the universal solar component from the company, this light can last for two days if it is kept under 12 hours of sunshine.
The light itself is not strong enough compared with normal lights or other low voltage lights. However, it would be sufficient for household decoration use.
We rate it 4 out of 5 for its unique design but the light is weaker than expected.
Please also contact us to send us your comments about this solar powered lights product or suggestions of other similar products for review.