Solar Landscape Lighting Product Reviews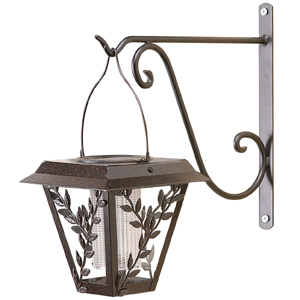 Silver Fox Wall Scapes
Overall Abacus Rating:





GOOD
3 of 5 Abacus Approval
Abacus Rating System

Lousy


OK



Good




Excellent





Exceptional
This solar wall designs offer complete flexibility and provide light for form and function on residential and light commercial (type) buildings. Solar wall-scapes will identify and call attention to architectural features on walls, columns and vertical structures. The porch lights shown below add great supplemental light for entrances and exits. Each fixture easily mounts to wall surfaces with screws provided.

For best results, replace batteries annually, clean the solar top from occasional dust and debris and make sure to place the fixture in fully lit areas. Most important, do not place under trees or next to buildings which will compromise the solar collection.

We rate it 3 out of 5 for its solid design but lack of luminosity. This wall mount solar outdoor light is elegantly designed with excellent craftsmanship. The solar component is not as bright as we hoped for. The light itself is not strong enough compared with normal lights or other low voltage lights; however, it would be sufficient for decoration use of your gardens.The manufacture has responded to our comments and introduced brighter solar components for 2006 models.This wall mount lighting fixture is a product of Heritage Lights, located in Pomona, California.
Please also contact us to send us your comments about these outdoor solar lights or suggestions of other similar products for review.