Cantonese Class In Los Angeles
Information for Group Lessons
(Also see our Chinese Travel Agency in Los Angeles)
General Information: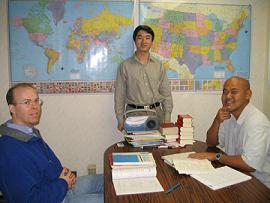 Current Cantonese Group Classes: (Free free to join in at any time, if there is space available)
Beginner Level
Once a week, every Wednesdays from 8:00 to 9:30pm. It's an ongoing class. So join our Cantonese class in Los Angeles any time.
Please Register Online or Contact Us for sign up information (By registering online, you will be on our mailing list, and will receive updates about the class)..
Instructor:
Class Size:
Minimum number of students: 3
Maximum Number of students: 6
We reserve the rights to change class schedules if the number of students signing up is below 3 or above 6.
Location:
401 N. Garfield Ave. #1
Alhambra, CA 91801
Textbooks Used:
To be determined
Cost: (to be paid on the first day of class, by check or cash)
$275 for two months.
PREPARATION/HOMEWORK

You will be expected to preview for textbook materials, to read over the grammar explanations in each lesson, and to complete homework for each lesson.

Contact Us for sign up information or Register Online.