Oriental Natural Treatment, A Foot Massage Spa in San Gabriel, Los Angeles County
We welcome Foot Massage Spa Owners to place advertisements here.

Contact Through Our Contact Form
Also see
Tibetan Herbal Feet Soak, Tibetan Foot Massage Spa in San Gabriel
Also See
Foot Massage in Los Angeles
Foot Massage Spa in San Gabriel, Los Angeles County
Oriental Natural Treatment, Foot Massage Spa in San Gabriel
Massage Spa in Azusa
General Introduction - Oriental Natural Treatment
Oriental Natural Treatment is a foot massage spa located in San Gabriel, Los Angeles County. It was founded by a person born in Hong Kong. Although it was only established in September of 2006, it has become the largest foot massage spa in San Gabriel.
My Personal Impression and Experience
Part of the reasons for its success is due to its lower pricing ($15/hour for regular hours and $9.99/hour for after 10:30pm), good massage techniques by its masseurs, as well as its nice environment and atmosphere.
I personally tried their foot massages by one of the masseurs named Sally. She was excellent. I actually went to two other foot massage spas in San Gabriel, and I personally believe that the foot massage given by Sally at Oriental Natural Treatment in San Gabriel was the best one I have ever had.
Los Angeles Times will have a story on foot massage spas in San Gabriel soon, and it will be written by its staff reporter David Pierson.
Using Their Own Words
According to the website of Oriental Natural Treatment, in their foot massage spa, you can "rejuvenate your body and soul with the unique treatments at Art Of Reflexology. Equipped with the TV set, you can enjoy your favorite TV shows or movies. There is a complimentary drink and snack readily for you."

The treatments of Oriental Natural Treatment Foot Massage Spa focus on "restoring you to optimum body health and well being. All therapists are fully trained, certified and insured practitioners. All are very experienced in reflexology."
Services Provided by Oriental Natural Treatment (Using Their Own Words)
Foot Reflexology / Foot Massage $20 for 1 hour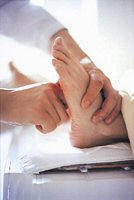 Reflexology has far-reaching benefits for the body, mind and soul. Our professional therapists apply the theory of reflexology, stimulate systematically nerve reflexes in the feet, and help to restore the balance and harmony of your body.

Back & Shoulder Massage / Chair Massage $10 for 10 minutes

A quick and intensive treatment to soothe the tense muscles of back, neck and shoulders. Gentle acupressure is applied to restore a sense of serenity to your day.


Traditional Body Massage $35 for 1 hour


Through the use of aromatherapy oils and smooth massage techniques, our professional therapists applied different gentle massage movements to trigger the aromatic healing process in your body while you relax with a sense of well being.

This is a unique massage therapy uses thumbs and palms with pressing, kneading and circulating strokes to create positive energy, relieve tiredness and improve blood circulation. Stretching and bending techniques adapted from the traditional massage are applied to the major muscle groups.

For those who prefer massage cream instead of massage oil during massaging, this Cream Body Massage is your choice.
* Aromatherapy Massage Cream

A combination of Rosemary, Lavender, Marjoram and Beeswax massage cream; with excellent relaxing and calming effects on reducing tension, improving energy flow and relieving tired muscles.

* Laminates Algae Massage Cream

The richness of the laminates algae in this massage cream contains superior toning and re-mineralizing ingredients, which are essential for the ultimate soothing experience and for nourishing the skin texture.
Contact Oriental Natural Treatment: