Technical Analysis
Point and Figure Charts
A prominent method of stock technical analysis in the 1960's that has not been as widely-followed since, Point & Figure technical analysis actually dates its roots all the way back to the late 1800's and Charles Dow, founder of the Dow Jones Company. Around the turn of the 20th Century, many savvy investors started to realize that certain stock patterns repeated themselves; as a result, point and figure analysis evolved as a simple, logical way to record share price movements.
As can be seen in the sample point and figure chart below, columns marked by an "X" indicate periods when the stock was rising, columns including "O" show when the stock was falling:
Sample Point and Figure Chart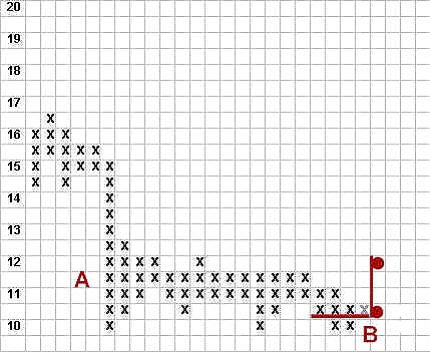 Unlike other forms of stock charting, this style typically uses the "3-box reversal" method, requiring a rally or pullback of 3 points (or boxes) before moving the chart from one column to another. What investors are left with are charts that tend to filter out the noise of small price fluctuations and a picture in which clear patterns emerge and trend lines can easily be drawn.
In fact, this is precisely the purpose of point & figure analysis—to produce charts that are logical, clear and simple to read. Consider the way a leading expert describes P & F's rationale:
"The premise of Point & Figure charting is to provide a logical, organized and sensible way of recording the supply and demand relationship in any particular security or sector. When it is all said and done, if there are more buyers in a particular security than there are sellers willing to sell, the price will rise. On the other hand, if there are more sellers in a particular security than there are buyers willing to buy, then the price will decline. If buying and selling are equal, the price will remain the same. This is the irrefutable law of supply and demand. The same reasons that cause price fluctuations in produce such as potatoes, corn and asparagus cause price fluctuations in securities." - from the book "Point and Figure Charting," by Tom Dorsey.
Tom Dorsey, it should be noted, is one of the founders of Dorsey Wright & Associates, a firm primarily dedicated to serving investment professionals and today's leader in the point and figure methodology.
To review, the following are the key features of Point & Figure equity analysis:
· P&F charts have been around for over 100 years, first advocated by Charles Dow of Dow Jones fame.
· P&F charts are key to successful to stock market trading. You can look at short, intermediate and long-term views.
· Formations, patterns and signals are easy to recognize and interpret, and tend to repeat themselves.
· You can chart stocks by hand or get updates from many websites.
· Trends are readily identified from trend lines.
· Price objectives can easily be established.
· It should enable investors to clearly see support and resistance points.
· The method is up to the minute.
· P&F charts can be used successfully with stocks, bonds, commodities, and other investment vehicles.
· Used properly, time factors, the confusing volume indications, and irrelevant minor fluctuations are minimized.
Fundamentals can help answer the question of WHAT to buy and technicals answer the question of WHEN to buy.


Please contact us for advertisement information and other matters.