Chinese Language Tutor in Los Angeles
For Adults and Children
With Yvonne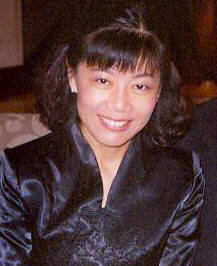 (Tutors all levels of Chinese also offers private class in downtown Los Angeles and surrounding areas for adults and children)
If our Chinese tutor is unavailable, you might wish to consider to
learn Chinese online via Podcast & MP3
Available Times: Weekdays and Sundays
Teaching Certificates: Available upon request
YVONNE'S SELF-INTRODUCTION

I am a well-educated individual with diverse working experience in banking, management training and Chinese language teaching. I am fluent in both English and Chinese Mandarin including interpretation and written translation. I am able to effectively communicate and interact with all levels in an organization and with both adults and children. I have had in-depth academic training in education, sociology and psychology in graduate studies and seven years working experience in relationship management, cross-cultural communication and negotiation, marketing, project management, public relations, corporate finance, management training and Chinese language training. I am eager to continue to teach Chinese to those professional Americans who desire to learn Chinese language, culture and customs for their business or leisure/personal growth purposes.
(Also see our Chinese Travel Agency in Los Angeles)
YVONNE'S TEACHING STYLE
When asked for her teaching style, Yvonne summarizes as below:
"With kids, I often reward their good work by giving them small birthday presents. I've also spent my own time with them making dumplings, steamed buns, etc. This is an effort to keep their Chinese alive and interesting. Three children currently taking lessons from me are so close, it seems like they're my own!

With adults, I develop an individually-tailored curriculum based on the textbook "Conversational Chinese 301", and as the lessons progress, I add more content -- interesting and topic-focused vocabulary, conversational dialogue and even poetry -- to each lesson of the 301. I have an individual file for each student and maintain a progress chart, so that at the end of 6 or 12 months, they can see how much progress they have made, giving them a measure and sense of accomplishment in their learning journey.

I guess on the whole, I treat my students like part of my extended family. I care for them as much outside of the classroom as in. For example, Janet lost her beloved English professor a little while ago; she just couldn't control her tears and cried all the while she was having her Chinese lesson with me. She said she felt comfortable crying in front of me and was not embarrassed. She just had her 22nd birthday last week, and I wrote her a heartfelt birthday card and enclosed a present. This coming Friday is Eddie's 29th birthday, and I will provide special recognition of that, too. Some adults have special requirements, for example business negotiations. I bring specialized vocabulary and dialogues to bear on these situations to focus the student on his or her areas of interest.

I think when you give sincerely, people can feel that and they do appreciate your giving and caring."
PROFESSIONAL EXPERIENCE

TEACHING AND TUTORING MAR.2004-PRESENT
Self-Employed Tutor

Teach Chinese Mandarin as a Second Language to a variety of students:
- Children ages 7-11
- Adult beginner level
- Adult intermediate conversational Chinese
- Adult advanced business Chinese

Two year hiatus after marriage in year 2002. MAR.2002-MAR.2004
KEYSTONE LEADERSHIP MANAGEMENT INC., SHANGHAI, CHINA OCT.2000-MAR.2002
Management Trainer

I was a front line management trainer, responsible for delivering training courses to the executives of corporate entities in China in the areas of communication, self-motivation, change management, empowerment, and crisis and conflict management. Customers included Kodak, Johnson & Johnson, and Philips.

ANZ BANK, ASIAN BANKING SERVICE, WELLINGTON, NEW ZEALAND JAN.1999-MAY2000
Project Manager

Responsible for providing research, market analysis and reports on Personal Banking trends in the Asian market.

Leading and managing a team of Asian Banking Customer Service Officers to implement marketing, sales and services strategies, business retention initiatives and relationship management to Asian segments targets.

Working with Relationship Managers, Business Development Managers of Business Banking unit, Product Specialists of Retail unit to deliver Personal Banking services to targeted Asian customers across the breadth of the Bank's retail structure.

Managing daily office activities and monthly revenue enhancement targets of the Asian Banking team.

ANZ BANK, INTERNATIONAL SERVICES: MAR.1995-JAN.1999
Manager, Greater China

Assisting Chief Manager, International Services with the support and coordination of the overall Greater China-related marketing activities of Trade Finance, including facilitation of inward and outward investment seminars and overseas visits. Managing and maintaining an on going, close working relationship with locally-based key government agencies, Asian embassies, key Asian business players and entities and overseas Chinese banks.

Providing and recommending ANZ Bank-Greater China-related public relations strategies including media advice, business sponsorship management, fundraising activities and TV documentary programs.

Participating in and facilitating some major Asia-Pacific banking conferences and seminars including participation in the 1998 APEC conference in Auckland, New Zealand.

Investigating, analyzing and providing resolution and settlement for both local and overseas Asian customer complaints with regard to their financial claims and payment disputes against International Network Services.

CAPITAL DEVELOPMENT AGENCY, WELLINGTON CITY COUNCIL MAR.1994-MAR.1995
Trade Facilitator

Initiating and implementing the "Sister City" links between the cities of Wellington, NZ and Beijing Municipality of PR China, advancing the venture to fruition.

Conducting and managing Wellington City Council's cultural and business exchange programs with the cities of Beijing and Xiamen.

On behalf of the Wellington City Council, participating as an interpreter and goodwill ambassador for New Zealand governmental trade missions to China.

Conducting seminars and providing assistance and advice to small business sectors on how to do business with China, including the China business environment and governmental regulations on foreign trade and investment.

THE OPEN POLYTECHNIC OF WELLINGTON OCT.1993-MAR.1994
Chinese Course Developer

Introduced, designed and developed a Chinese language curriculum and edited a textbook for the Chinese Language Department of the Open Polytechnic of Wellington. The textbook was used later nationwide by polytechnics throughout New Zealand. Taught Chinese courses to Open Polytechnic students and professional groups including senior bank executives, Wellington City Councilors, government personnel, etc.

Introduced and launched a weekly community based program in the study of Chinese language called "Wellington Chinese Corner".

EDUCATION & TRAINING

Post-graduate Diploma in Educational Studies, 1992. Victoria University of Wellington, NZ

Certificate in Sociology, 1992. Victoria University of Wellington, NZ

BA in Chinese Literature, 1987. ShenZhen University, GuangDong, China

REFERENCES:
Provided upon request
Price:
$55/hour (contact us for group rates)
How to Reach Yvonne:
Please contact us for more information.