Chinese Class in Orange, Orange County
Information for Next Group Lesson
General Information: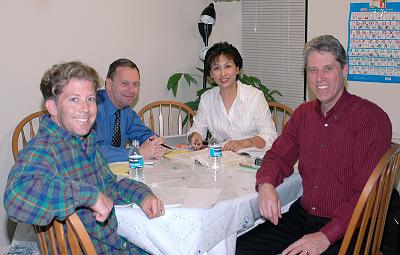 Chinese class in Orange City, near Fullerton, Anaheim, Long Beach, Seal Beach, Westminster, Santa Ana, Irvine, Huntington Beach, Costa Mesa, Newport Beach, Orange County.
We purposely hold this Chinese class at a Chinese family's cozy residence so that not only will you learn Chinese language related to travel, business, you will also learn things related to Chinese culture, Chinese food, and Chinese families. If interested, our instructor can also show you how to make Chinese foods, and teach you about Chinese wine culture, etc.
New Beginner Level Chinese Class:
New class will start May 7, 2008 Wednesday at 7pm. This class will last for 8 weeks.
Please Register Online for detailed class starting time and sign up information (By registering online, you will be on our mailing list, and will receive updates about the class)..
Instructor:
Class Size:
Minimum number of students: 3
Maximum Number of students: 6
We reserve the rights to change class schedules if the number of students signing up is below 3 or above 6.
Location:
1529 W. Culver Ave
Orange CA 92868
(Note: Chinese teacher Michelle Li teaches at her private home)
Textbooks Used:
Conversational Chinese 301
Cost: (to be paid on the first day of class, by check or cash)
$275 for two months.
Textbooks not included. (For textbooks, see Chinese Textbooks for more information)
PREPARATION/HOMEWORK

You will be expected to preview for textbook materials, to read over the grammar explanations in each lesson, and to complete homework for each lesson.

ANTICIPATED COURSE SCHEDULE (For Beginner A)

Week 1: Lesson 1, Conversational Chinese 301
Introduction to Chinese language, tones, and characters
Homework: Review Lesson 1 and preview lesson 2

Week 2: Lesson 2, Conversational Chinese 301
Greetings and self-introduction, numbers, pronunciation, character strokes
Homework: Be prepared to introduce yourself and each other in class.

Week 3: Lesson 3, Conversational Chinese 301
Dates, siblings, work, pronunciation practice etc. Review lesson 1 of Easy Way to Learn Chinese Characters
Homework: Memorize ways to say dates. Review numbers, be able to write down phone numbers in Chinese.

Week 4: Lesson 4, Conversational Chinese 301
More ways to greet each other. Ask each other phone numbers and birthdays.
Homework: Review lesson 4 of Conversational Chinese 301, practice Chinese characters.

Week 5: Lesson 5, Conversational Chinese 301
Names of places, the verb "to go", Japanese names in Chinese, etc. Review of Lesson 1-5.
Homework: Be prepared to write a sentence in Chinese, such as "My name is… ", "my birthday is…" Practice questions sheet.

Week 6: Lesson 6, Conversational Chinese 301
Birthdays, days of the week, etc.
Homework: Be prepared to write 2 sentences in Chinese, and be able to ask for days of the week, etc. More Chinese character practice

Week 7: Lesson 7, Conversational Chinese 301
Household vocabularies, Chinese culture information, modern Chinese families.
Homework: Review Chinese characters. Be prepared to turn in your character writing practice, and a 5-minute presentation in Chinese.

Week 8: Reviews of lesson 1 to 7.
Please Register Online.