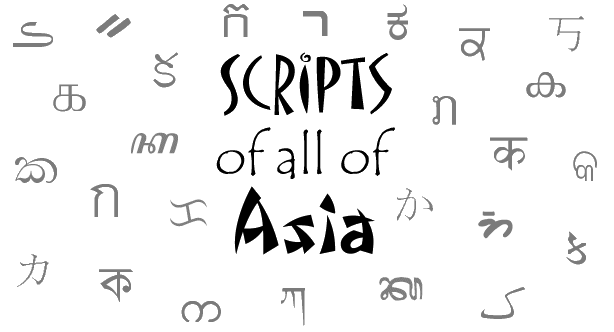 Hi - I'm Eden Golshani.
Signed up - March 15, 1998
Last updated - February 12, 2004
What's on this page? Indian script comparison charts - learn to read and write in any Indian alphabet! And now many more languages! What's new on this page? Sindhi, Burmese, Lao, Thai, Khmer, Java, Bali, Batak, and Bugis!!
TAKE A LOOK AT THE NEW CHARTS CONTAINING ALL THE BRAHMI DESCENDED SCRIPTS!
Scripts on my Pages (indexed by region):

Script

Region

Languages that use Script

Page(s) to learn Script

Devanagari (DEV)

North India

Hindi, Sanskrit, Marathi, Nepali

Gujarati (GUJ)

North India

Gujarati

Gurmukhi (PUN)

North India

Punjabi

Bengali (BEN/ASS)

North India

Bengali, Assamese

Oriya (ORI)

North India

Oriya

Telugu (TEL)

South India

Telugu

Kannada (KAN)

South India

Kannada

Tamil (TAM)

South India

Tamil

Malayalam (MAL)

South India

Malayalam

Sinhala (SINH)

Sri Lanka

Sinhala/Singhalese & Pali

Tibetan (TIB)

North India, Tibet, Bhutan

Tibetan, Bhutanese

Urdu(URD)

Pakistan

Urdu

Sindhi(SIND)

Pakistan, North India

Sindhi

Persian

Iran

Farsi

Bopomofo

Taiwan

Chinese

Hangul

N & S Korea

Korean

Hiragana

Japan

Japanese

Katakana

Japan

Japanese

Burmese (BUR)

Burma

Burmese

Lao (LAO)

Laos

Lao

Thai (THA)

Thailand

Thai

Khmer (KHM)

Cambodia

Khmer

Javanese (JAV)

Java, Indonesia

Javanese

Balinese (BAL)

Bali, Indonesia

Balinese

Tagalog (TAG)

Phillipines (until late 18th cent)

Tagalog

Batak (BAT)

N Sumatra, Indonesia

Batak, Toba

Bugis/Buginese (BUG)

Sulawesi, Indonesia

Bugis, Makassar
<![if !supportEmptyParas]> <![endif]>
IMPORTANT NOTES FOR THE FOLLOWING CHARTS: A dash indicates the letter does not exist in that particular language. North Indian script are to the left and South Indian scripts are in the middle, then the Arabic based scripts are on the right. An asterisk denotes that letter is a part of an extended character set of the alphabet. I have added Urdu and Sindhi to my main charts. These are Arabic based scripts and are written from right to left. For simplicity, the detached form is given since a letter can take up to four forms. Also, some letters like "z" can have multiple counterparts in Urdu and Sindhi, the most common letter is given.
Velars:



Palatals:



Retroflexes:



Dentals:



Labials:



The following chart shows the only two letters that differ between the Bengali and Assamese scripts. Glides (Semi-vowels):



Fricatives:



This next chart shows the full vowel forms, they appear at the begining of words, or when following another vowel. Note: An "S" in parentheses indicates a South Indian vowel - they sound almost indentical to their Northern counterparts, but are said quicker. The 'regular' E and O in the Southern scripts sound more drawn out. So, in Southern languages, "o(S)" sounds like 'Joe' and "o" sounds more like 'co-owner'.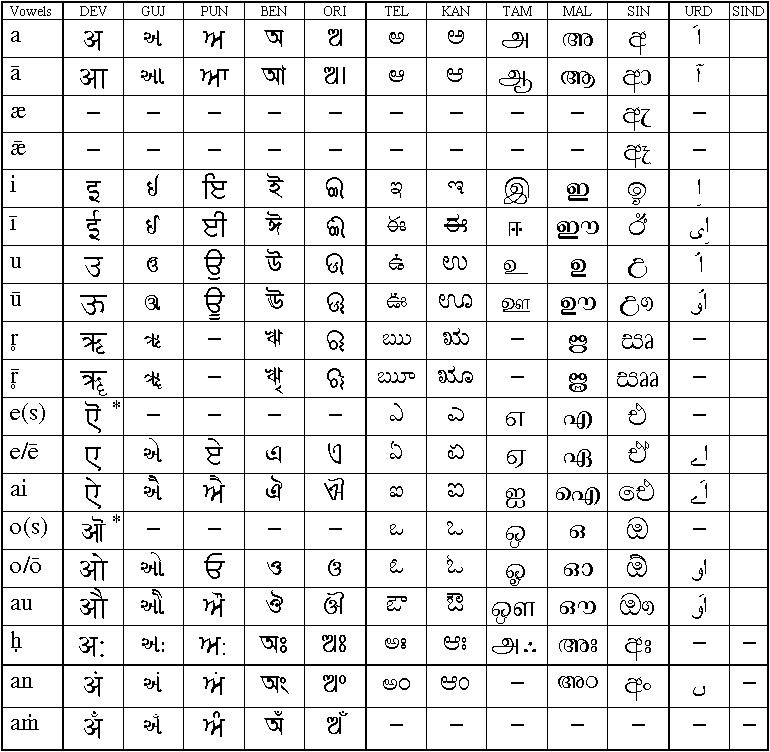 Here are how consonants normally connect with vowels. For example purposes, the letter "k" is used in all languages. Many irregularities exist when connecting vowels, especially in Southern Indian languages, so, please do not rely soley on this chart to explain how vowels connect.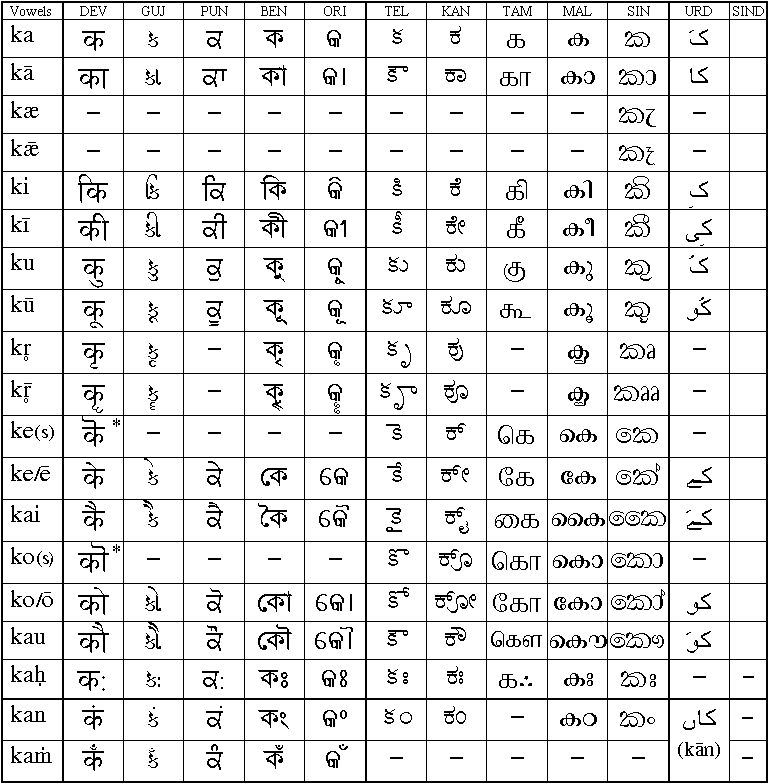 What do these weird letters and marks mean - how are Hindi vowels pronounced? Click here! (These are approximate, but a good start if have no idea what's going on with the vowels. An English word is given and then written in Devanagari.)
Miscellaneous Consonants - These letters are part of an extended character set in most of these alphabets and are used mostly for writing foreign words. The Tamil, Urdu, and Sindhi characters presented here are a part of their standard alphabets: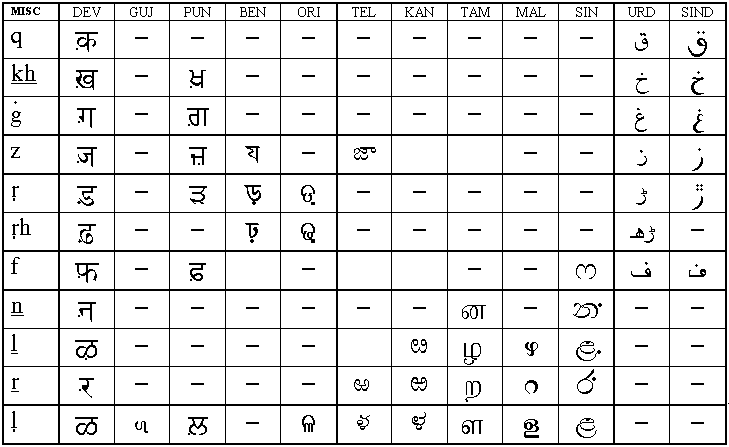 *Can someone help me with Sindhi vowels?*
Each script has a different way of creating consonants compounds, so be careful! These pages aren't for mastery in any of these scripts - but maybe to get a start learning one, or observing the similartites between scripts.
Consonants followed by an "h" show aspiration (extra air blown out), so do not pronounce "th" like 'the', or "ph" like 'phone'.
"V" is sometimes pronounced like 'w'
"C" is pronounced like 'chew' - so "ch" is like 'thatch-house'
"S'" is prnounced like 'shoe'
"S." is like 'sh' but the toungue is further back as in the retroflex letters.
Terms:

Velar - pronounced from the back of the mouth
Palatal - pronounced with the tounge against the roof of the mouth
Retroflex - pronounced with the tounge curled back
Dental - pronounced with the tip of the tounge touching the back of the teeth - where the tongue is at the end of saying 'bath
Labial - pronounced with the lips starting together
Fricative - sounds like 's', 'sh', and 'h'
Aspirate - extra air exhaled - (commonly, differences are hard to tell between most unaspirated and aspirated consonants in speaking)
---
You may ask, how are all these scripts related? Well, they are all descendants of the ancient Brahmi script. Want to see a chart of how they descended over the years? Note: Urdu and Sindhi are not Brahmi-descended.
You may also ask, why are you doing all this if you aren't even Indian? Well, I believe we must learn about different cultures so we can understand them and there will be "unity within diversity" of all the peoples of the Earth. This sentiment comes from my religion, the Bahá'í Faith.
The Tibetan script is also a descendant of Brahmi. It has less letters though, and considerably less vowels - only four! Please visit my Tibetan alphabet page.
I also have put together a site for the Eight Auspicious Symbols of Tibetan Buddhism if you wish to see some examples of Tibetan and Devanagari(Sanskrit) writing.
I would like to thank everyone who I've emailed and all the people who created sites online that helped me in my studies. Please support someone who helped me by visiting: