English Tutor in New York City (NYC)
Julie is currently no longer teaching. We are looking for English tutors in New York.

(Tutors all levels of English also offers private class in Queens, Manhattan, New York)
Julie, a young lady with a bachelor degree in anthropology, provides English private tutoring lesson in Queens, Manhattan, New York and surrounding areas. She is experienced and tutors all levels of English for individual learners and corporate companies.
Comment from LA Chinese Learning Center: Since 2004, Julie has been teaching English in New York for people who requested such services from us. We have received very positive comments about her tutoring and teachings. Therefore, please feel free to contact her directly if you have any questions.
Julie's Resume
RELATED EXPERIENCE:

English Tutor / Conversation Partner
9/04-Present

*Assess communication goals of clients
*Listen and understand patterns in pronunciation difficulties
*Demonstrate physical speech mechanisms to correct pronunciation
*Model and correct English grammar in spoken and written English
*Develop short-term and long-term plans, including appropriate assignments
*Provide emotional support

Church Avenue Merchants Block Association (CAMBA)
Crisis Counselor
10/2003-9/2004

*Maintained confidential case files and psycho-social assessments
*Advocated with public assistance, NYPD, US Citizenship and Immigration Services, and other social service agencies
*Drafted advocacy letters for immigration, housing and other client needs
*Supplied information to Brooklyn police precincts, health fairs, and schools
*Provided individual counseling to survivors of crime

Safe Horizon
Rape and Sexual Assault Specialist
2/2002-10/2003

*Prepared monthly and quarterly reports for the Rape and Sexual Assault Hotline
*Ensured the Hotlines Program surpassed monthly and quarterly goals
*Provided follow up hotline crisis counseling, information and advocacy
*Developed case studies for trainings
*Researched new sexual assault information
*Composed e-mail responses to website inquiries

Safe Horizon
Hotline Client Advocate, Safe Horizon
1/2002-2/2002

*Provided hotline crisis counseling to clients of the Rape and Sexual Assault, Domestic Violence, Crime Victims and September 11th Hotlines
*Adapted referrals to quickly changing updates
*Advocated on behalf of clients with criminal justice and social service agencies
*Updated hotline call database

IHSP-University of Akron
Site Manager
8/2001-12/2001

*Acted as a liaison between participant community and research associates
*Presented program information to teenagers
*Tracked students and monitored school participation
*Prepared student participation / attrition reports


COMMUNITY SERVICE:
International Center in New York
Conversation Partner
1/2002-4/2003

*Assisted members with English pronunciation, vocabulary and grammar
*Facilitated adaptation to New York City culture
*Explored member interests through conversation and lessons

CERTIFICATION / HONORS:

*Certified Rape Crisis Counselor, New York State Department of Health
*Audre Lorde Writing Award 2001, Women's Studies Committee of John Jay College of Criminal Justice of CUNY
*Dean's List 1998, Hunter College of CUNY

EDUCATION:

Hunter College of CUNY
Bachelor of Arts
Anthropology Major, Physical Anthropology Minor
1/2001
GPA:3.2
Major GPA:3.8

SUMMARY OF QUALIFICATIONS:

Knowledge of Microsoft Word, Excel, Internet Explorer, Outlook, Corel WordPerfect
Skilled at research, writing, hotline / call center service, crisis counseling
Experienced in issues of domestic violence, rape and sexual assault, victimization and trauma, culture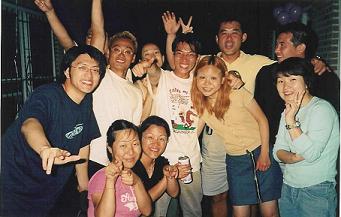 One summer, Julie hosted a birthday party with many international guests. Everyone had tons of fun!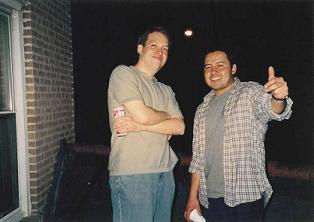 Even though they just met at the party, these two guys enjoyed talking about sports and music.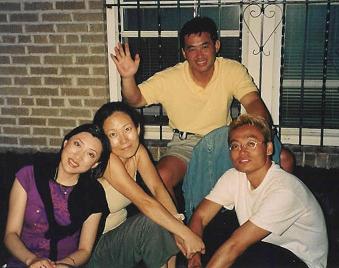 Tired after a night of dancing, (from left) Jewel, Sumi, Rick and Sung take a break.
How to Reach Julie:

Julie is currently no longer teaching. We are looking for English tutors in New York.